KGiSL Institute of Technology, one of the leading engineering colleges, started in 2008, by KG Group, based out of Coimbatore, has started its own Startup Incubation Centre & Co-working Space 'Agile' at its green, sprawling campus at KGiSL Campus in Saravanampatti, Coimbatore. In a grand launch organized by the Agile Startup Incubation team, Dr. Ashok Bakthavathsalam, MD, KG Information Systems Private Limited (KGiSL), launched the Incubation Centre, along with the founder team of We Founder Circle (WFC), a global community helping startups with business, community & funding.
The audience comprising about 200 entrepreneurs and studentpreneurs, and a handful of mentors, investors, incubation & EDC heads, and leaders of the startup ecosystem were welcomed by Team Agile. The Agile Startup Incubation team is led by its director Siva Raghavi, who previously held several leadership positions at various levels in organizations including Founders Lair and Startup Grind India.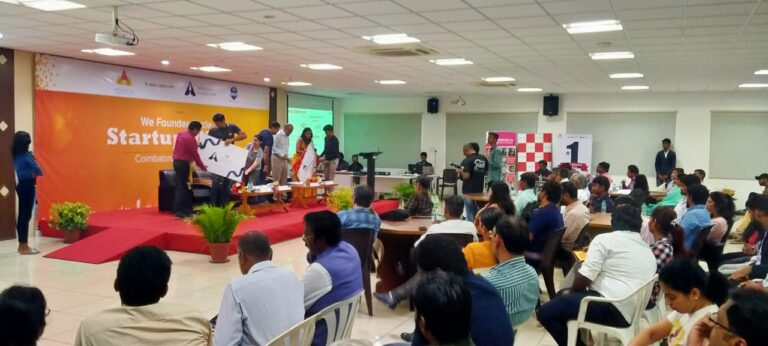 While Dr. Ashok Bakthavathsalam launched the initiative, Saurav, Gaurav and Bhavana of WFC team gave off the top 3 Startup Community Enabler Awards to Shameer of 'By The Startups' Community, Senthilkumar Rajappan of YourCoimbatore.com and Satish of 'The Talk', besides the best startups' awards to five founders. He also spoke briefly on the salient features of the new incubation centre, and how it can help any aspiring startup in the form of mentoring, funding support, co-working space assistance and networking.
Bhavana of WFC team gave a presentation on We Founder Circle, and ways in which startup founders and angel investors can cohabitate using the platform for seed funding and mentoring. She also took a few FAQs from the audience, which helped cleared air on investment and funding options for early stage startups. Raghavi delivered the vote of thanks. The event concluded with an hour of intense networking session and lunch thereafter.
To join KGiSL Agile Incubation centre, contact: Siva Raghavi, Incubation Director
KGKGiSL Startup Incubation Centre 'Agile' launched in Coimbatore